| August 17, 2020
EmprintWeb Website Launch
Cloud-based document management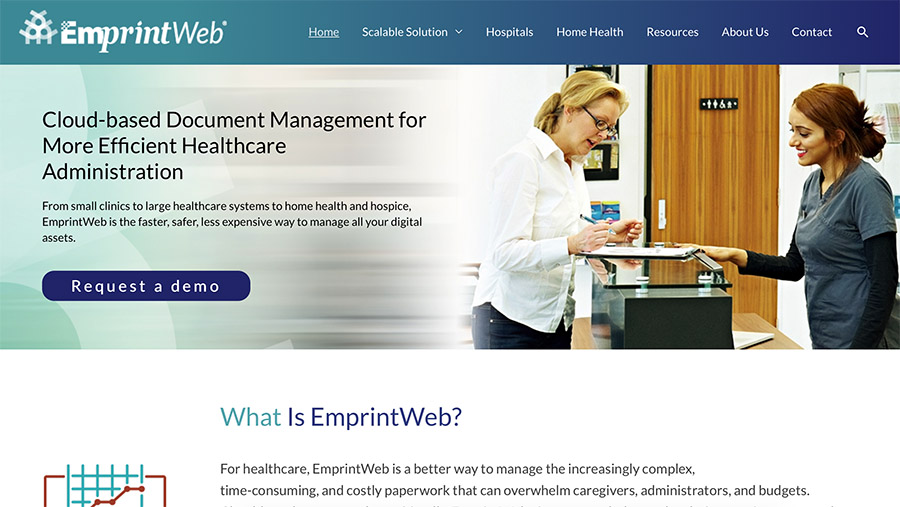 August 18, 2020
Emprint, a full-service provider of printing and document solutions, announces the launch of its new website for EmprintWeb, a cloud-based document management designed to streamline paperwork, reduce costs and help caregivers work more efficiently.
Document governance is one of the most costly and complex areas of healthcare administration. EmprintWeb brings it under control, enabling healthcare providers to enjoy solid bottom-line savings and measurable operational efficiencies. Once integrated with EHRs and EMRs, the user-friendly document management system ensures patient forms can be accessed when and where needed.
"Our customers have found that EmprintWeb is not only easy to use, it's easy to learn and implement," noted Rebecca Vance, President/Chief Operating Officer. "It has allowed them to govern standard forms and make the care experience more consistent from patient to patient, and location to location."
Reliable and secure, EmprintWeb streamlines access to care documents – even during system downtime. Its intuitive interface makes it easy to for authorized users to find exactly what they need to download, print or share. Forms can be completed electronically or manually, then embedded with real-time patient data. Forms that are frequently used together can be bundled into convenient packets.
EmprintWeb's customer service team makes implementation seamless. "We collaborate closely with our customers' IT teams during systems integration," says Vance. "Our customer service team is always available for questions and support."
During implementation, the Emprint team collects and digitizes existing care documents and forms. They also offer a full-service design and production studio if customers need help with creating new ones.
"We designed EmprintWeb from the ground up to make patient administration easier for our customers," Vance notes. "Healthcare today is complicated enough. Patient intake and care content shouldn't be."
To learn more about EmprintWeb and its capabilities, visit www.emprintsoft.com.
Read More News