Our clients are here, there and everywhere.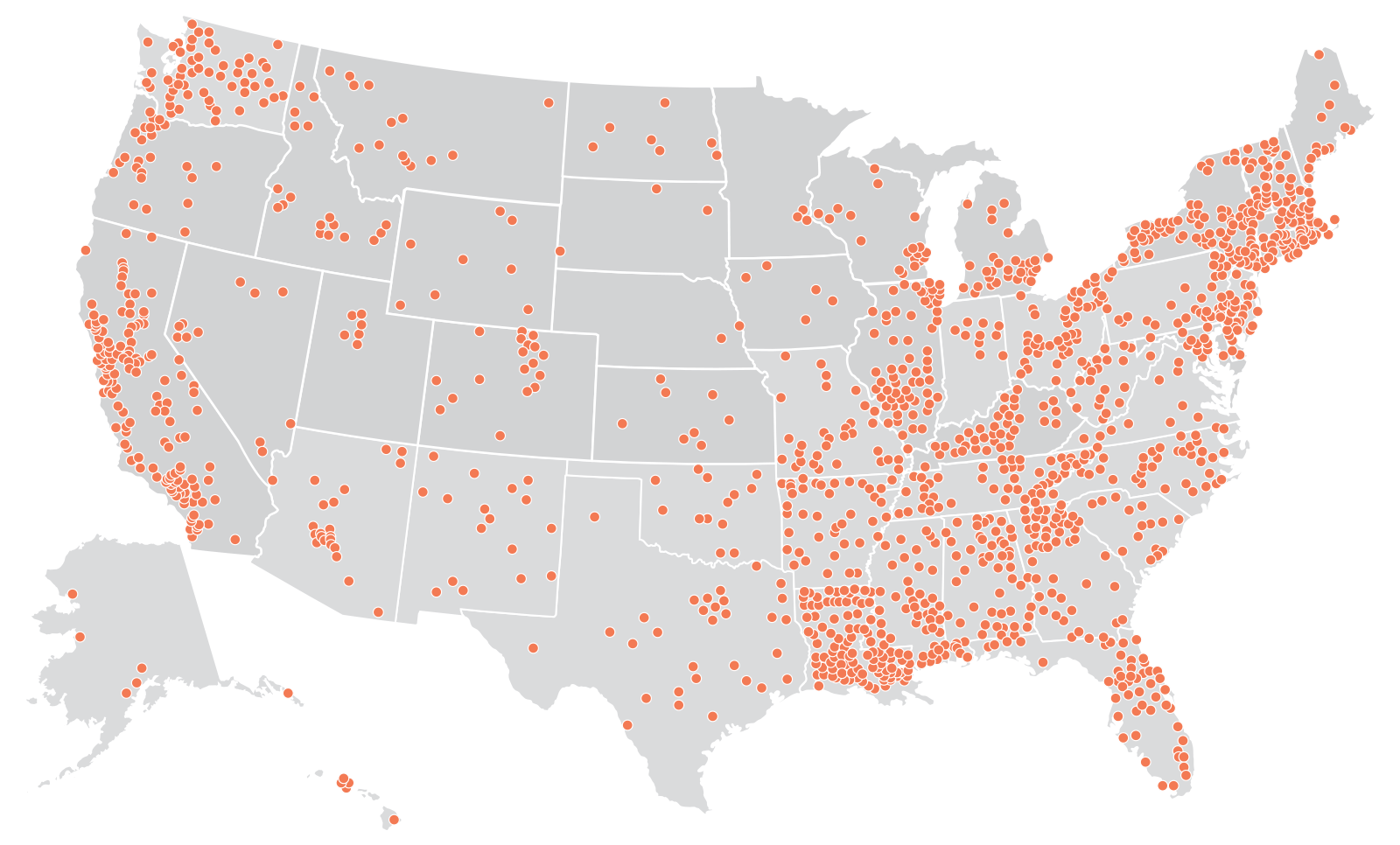 Emprint has partnered with clients in all 50 states of the United States and has a global presence in many other countries as well. We work to help our clients find solutions to their unique documentation needs no matter where they are located. In many cases the solutions are enterprise wide, touching every aspect of that client's business. Emprint has assembled teams of knowledgeable graphics and techology professionals to solve some very large challenges that our clients have faced.
Areas of specialization
Our clients include buisinesses in healthcare, education, commerical, marketing and design, banking, insurance, hospitality and more.
Healthcare Case Study
A major hospital management company with over 120 regional hospitals in 29 states sought to centralize and streamline its document acquisition, storage, and distribution system. The company asked Emprint to help them develop a web-enabled system that would allow local purchasing staff in each of its hospitals to place and track orders for existing documents, create new documents, convert some documents (such as forms) to electronic documents and to warehouse and distribute frequently used documents. In addition, we helped to weed out duplicate documents, combine similar documents and identify and eliminate obsolete documents. The task was complicated by the fact that some of the hospitals were located in rural areas where web access and the computer skills of the purchasing staff were limited. We launched a program whereas Emprint team members would visit each hospital to ensure that an adequate connection to the internet was established and that the purchasing staff were individually trained on how to use the new system. The system, once established, has saved the management company millions of dollars not only in the cost of creating, producing, and tracking documents but in the time needed by hospital staff to manage the thousands of documents used by the hospitals every day.
Education Case Study
As the country has focused more and more on the need to improve its public education systems, the federal government has moved to require local schools to administer a wide variety standardized testing. This in turn has required local governments to face the monumental task of producing and distributing these tests to every school in the their systems within a very short timeframe. Emprint was asked to come up with a solution for just this kind of scenario. A major, metropolitan, school system needed to print over 40,000 test packets. The packets were to be separated by subject and grade level, with the appropriate quantity of tests for each school. To meet this challenge, we assembled an experienced team of document solutions professionals, including a digital print production operator, a quality control specialist and a packaging and distribution coordinator. Through the combined efforts of this team and other production and distribution specialists within the company, Emprint was able to print, staple, sort, quality check, and pack over 40,000 test packets in less than a week. After all of the tests were administered and the project completed, it was confirmed that Emprint produced and delivered every single packet with 100% accuracy.
Commercial Case Study
An internationally acclaimed manufacturer of innovative, professional, music-production tools sought Emprint's help as they consolidated their marketing efforts across their entire product line. They needed a turn-key solution to the problem of providing consistent, high-quality, production and fulfillment of their retail software packaging, equipment manuals, and user guides.
This company's products were offered in over 75 countries by a network of retail stores and more than 800 specialty representatives and distributors. When they approached us, they were using a variety of vendors in various locations to produce and distribute their products. This led to major consistency problems with branding, product quality, distribution logistics, and ultimately, inflated production costs. To resolve this, they sought a single, reliable production and fulfillment company that would provide them with consistent quality, timely service, and reliable fulfillment of their products.
Emprint put together a team of professionals to come up with an optimized plan to meet this customer's needs. The plan, which drastically reduced the customer's overall costs, included the following:
Printing, production and assembly of software packaging
Burning of software from the customer's master discs to production DVDs
Printing the softwares' Quickstart Guide and user manuals
Printing of crushproof shipping boxes and liners
Assembly, packaging and insertion of discs, manuals and brochures
Printing and affixing location-specific barcodes and product-key serial numbers
Packaging and shipping of completed retail boxes to various U.S. and international dealers
On-line access to ordering, tracking, production and fulfillment information such as inventory levels, orders received and orders shipped.
Emprint was also tapped to produce their annual product catalogs and brochures, which were shipped to the various tradeshows they attend each year. Using the Indigo digital press, Emprint now produces personalized, point-of-purchase advertising materials and postcards. Each of these products are produced in short runs and are imprinted with the individual distributor's logo and company information.
The results of this effort have been a complete success by all accounts. In the words of their VP of Marketing:
"I've been dealing with printers for over 30 years now and have to say, Emprint is really impressive by ANY standards. This place could be in LA, New York or Chicago. Truly state-of-the-art. These guys get it!"